Garrett Carter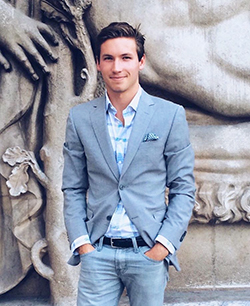 Garrett Carter is in his third year of NYSID's BFA program. He hails from Houston, Texas, where he interned at Fixtures & Fittings, Pierce Designs & Associates, and worked at the design magazine Milieu. In between classes, he is a contributing editor for the popular lifestyle website, OliviaPalermo.com.
What do you like most about going to school in NYC?
Having the privilege to attend NYSID in the heart of New York City has been an amazing intellectual experience and given me a hands-on approach to learning. As a student I have visited designer showrooms and construction sites in and around the city, and I always have the chance to attend networking events with industry professionals.
Can you tell us about your internship experience?
I am currently interning with Steven Gambrel here in NYC. Steven has been an inspiration to me for years, so I am absorbing as much knowledge as possible each day I am in the office. Whether I'm learning about the three different finishes that make-up a fireplace, or the way a transom is designed above a door, Steven has taught me that meticulous attention to detail is critical in design. Interning with Steven has really given me the opportunity to fine-tune my design skills and has given me the chance to participate in the evolving world of design on a new level.
Tell us about your involvement with OliviaPalermo.com
Being a contributing editor for OliviaPalermo.com has been a fun way for me to analyze and write about interiors and home décor. From this experience, I have been able to develop my eye as a designer and understand the relationship that exists between the worlds of fashion and interior design. Recently, I've written articles about new spring design trends – you can read them here.
What's your favorite class at NYSID so far and why?
Residential Design III has been a favorite class of mine in the curriculum here at NYSID. High-end residential design is my passion. Not only has this class challenged me as a designer, but I was also able to express my own design sensibility through the work as well.